Synergy Financial Group moves from Grand Ledge to Lansing!
Synergy has moved their office to Lansing – You can find them right in front of the giant Antique Mega Mall on US 27. Jamie and Lindsay are excited to show you around and welcome you to the new office.  They share an office building with family-owned business, Riley's Tax Service. Synergy is blessed to have such great office neighbors, and to have wonderful clients who continue to work with them. Stop by and say hello!
---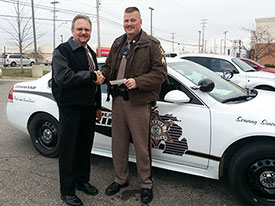 Synergy Financial Group proudly supports the 13th Annual "Shop with a Hero" Program!
Each year the Ingham County Sherriff's Office takes 50 local disadvantaged children from the outlying areas of Ingham County to the local Meijer Store where each one of the children is paired up with a Police Officer or Firefighter and is escorted throughout the store to pick out gifts for themselves or their families. After shopping, each child is also provided with a food basket which includes a turkey, ham and all of the fixings for a Christmas dinner!
It is clear every year that these local Heroes have made a difference in in the lives of the families represented.
---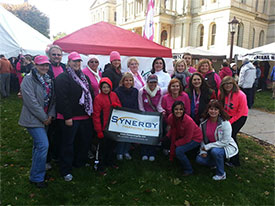 Synergy Financial Group is a proud sponsor of the "Making Strides Against Breast Cancer" Walk in Lansing, MI:
Teaming with Astera Credit Union, Synergy Financial Group joined forces with the American Cancer Society and others to help saves lives and put an end to breast cancer. The American Cancer Society Making Strides Against Breast Cancer walk unites communities to celebrate people who have battled breast cancer, educate people about ways to reduce their risk, and brings us all one-step closer to new treatments and a cure. Participating in a Making Strides event is a chance to honor breast cancer survivors, remember those we have lost, raise awareness, and support vital patient programs. This year through a combined effort with Astera Credit Union we were able to raise more than $3000.00 in the battle to find a cure!
---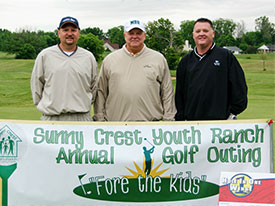 Sunny Crest Youth Ranch
Mission:
The purpose of Sunny Crest Youth Ranch is to provide a safe, loving environment with the influence of core values, and physical, spiritual, mental and social support.
The Sunny Crest Youth Ranch is a vision of lifelong educators Ron and Ellyn Coppess, and a cadre of caring Ranch Partners willing to commit to mentoring some of the most vulnerable in our communities.
Over the short period of time they have been in operation as a Residential Care Facility for young men who need a "safe place" to call home they have created a safe and nurturing environment that will give abused and neglected youth a fair chance at life.
Sunny Crest Youth Ranch is a working ranch set in place to offer a Hand Up to "at risk" youth. There are many valuable programs at the Ranch, including a hands-on wood and metal working shop, animal assisted therapy and tutorial assistance. These programs are set in place to enable each boy to become a responsible, honest, hardworking and trusting young man. Each Rancher has an Individualized Treatment Plan which combines the appropriate educational and therapeutic programs under the supervision of skilled adults.
---
Gradient Gives Back